Charity of the Year – FareShare Midlands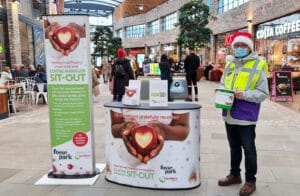 In December, Fosse Park partnered up with FareShare Midlands as our charity of the year. FareShare Midlands believe that no food should go to waste, so they redistribute good quality surplus food to organisations across the Midlands who provide meals to those in need. As well as supporting vulnerable people in the community, we also admired FareShare Midland's approach to sustainability, which closely aligned with our objectives at Fosse Park. During December our Centre Manager, Adrian Young, undertook a sit out to raise donations to feed families over the Christmas period, raising over £1,700.
Since the start of our partnership with FareShare Midlands, we have already donated £4,607, providing over 18,000 meals to 4,500 families in need. Our partnership with Fareshare Midlands will continue into 2022. You can donate to the cause via our Just giving page which can be found here.