Dancing foxes take over Fosse Park with two weekends of family fun!
Fosse Park is kicking off the summer in style with two weekends of Fox-themed entertainment promising fun for all the family: from the cubs to the silver foxes!
Fosse Park will come to life with pop-up performances by the Fantastic 5 Fox Dance Troupe, who will be flipping and challenging customers to try the 'Fosse Floss'. There will be a musical fox duo entertaining shoppers, as well as plenty of jokes, games, giveaways and tricky fox behaviour.
There will also be fun to unlock on your phones, with a chance to try out the amazing augmented reality Fosse Fox filter which you can then share with your friends and family.  There is also a limited number of Fosse Fox face masks being given out, featuring artwork from the real Fosse Foxes.
This all takes place on the weekend of 24th and 25th July as well as on Saturday 31st July and Sunday 1st August, between 11am – 4pm. This fox-focussed activity follows the launch of the Fosse Fox art trail back in April with 25 painted foxes located around Fosse Park, giving families plenty to get involved with during a shopping trip.
On Saturday 31 July Blaby District Council are also hosting a stand with the opportunity to learn more about the extended Fosse Fox Trail at attractions across the district and to enter a competition creating your own fox design. As well as launching the Tourism Wall which can be seen heading towards the lifts from Food Central, for a preview of the map click here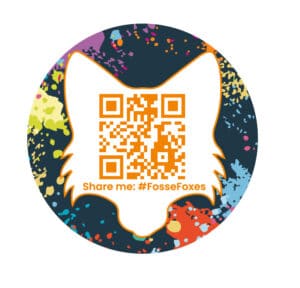 Centre Manager of Fosse Shopping Park, Adrian Young, said "We're really excited to be hosting some great activities at Fosse Park over these summer weekends. Having entertainment like this is something we've really missed during the lockdowns. Coupled with the Fosse Fox art trail we're sure that a visit to Fosse Park will make a really fun day out for all the family.
We are still encouraging our shoppers to stay safe and be respectful of others while visiting."
Customers are encouraged to share their experience using our QR code on social media using #fossefoxes