Freshly painted, preened and positioned, the Fosse Foxes are arriving soon!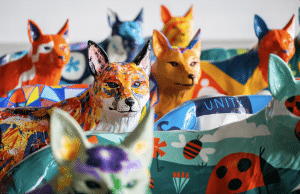 The highly-anticipated Fosse Foxes art trail launches on the 12th of April at Fosse Park.
Partnering with Blaby District Council, the brightly coloured fibreglass foxes help mark the £181 million transformation of the shopping park, including the addition of Food Central and Fosse Park West that increases the restaurant and retail offering by an impressive 40%.
Launching last year as a design competition, Fosse Park received over 110 entries, narrowed down to just ten lucky winners. These joined the fifteen designs submitted by local community groups, such as Leicester City Football Club and Action Homeless (full list of local artists and community groups below). Fosse Park then worked with local Leicester-based illustration duo, Pickle, to bring the ideas to life and create the masterful skulk of foxes. Check out all the incredible designs here.
Located on a plaque next to each fox, visitors can find a scannable QR code providing more information about the design inspiration of each fox. All designs can be viewed on the Fosse Park website, where there is also a map of the art trail available to download.
The fifteen local community groups to design a fox;
A Place to Grow
Action Homeless
Aylestone Meadows Appreciation Society
BOW Young Carers
Blaby District Council
Brockington College
Fosse Park
Fullhurst Community College
Leicester City Football Club
Leicester Tigers
Leicestershire & Rutland Wildlife Trust
Memory Café
MENPHYS
New Lubbesthorpe Primary School
Rutland Cycling
Local winners of the Fosse foxes design competition;
Bhavna Mapara
Bethan Griffiths
Danielle Tomlinson
Emma Gamble
Esther Hartshorn
Gracie Lawrence
Lorna Macdougald
Nin Carlin
Pickle
Seema Jaffer
Stewart Pawley
Both the foxes and the retail expansion are an uplifting sight as we begin to emerge from lockdown, welcoming back both warmer weather and non-essential retail. For more information, please visit www.fossepark.co.uk/foxes.