Jubilee celebrations & entertaining
Fosse Park is your one-stop-shop for the extra Bank Holiday to celebrate our Queens 70th Jubilee as Monarch this year. If the date has slipped your mind its 2nd and 3rd of June to give us a nice long weekend to celebrate.
We've done the rounds and got the best scoop on goodies for your picnics and street parties. If you're looking for an event near you visit  https://platinumjubilee.gov.uk/ for more details.
Drinks
M & S have some summery gins that have now landed in store-British strawberry and Cherry, so check them out.
Entertaining Hampers and treat bags
Biscuits lovers will love these limited-edition musical tins, perfect to accompany your jubilee afternoon teas. If you're planning a picnic in the park, the Jubilee treats tote is perfect, it includes: Shortbread, Chocolate Collection of Corgis, Jubilee Lollies, Sparkling Light British Strawberry and Elderflower Pressé, Corgi Gingerbread, Jubilee Connie the Caterpillar™ mini rolls all presented in a Jubilee Tote Bag. For bigger gatherings, hampers are available too.
Street Parties
If you're planning a street party- we've got you covered too!
Check out WHSmith for all your bunting, paper plates and cups, plus they have some fun jubilee edition board games and top trumps cards.
Outfits
Bright colours and florals are all in this season. Next have some bright blazers in green orange and pink to add a splash of colour to your outfit.
We also spotted this bright pink ¾ leg jumpsuit. Fashioned from crepe fabric, it has a kimono wrap detail for a controlled but relaxed fit.
If pink isn't your colour there are lots of bright greens and blues too. This satin green mini dress comes in both colours and has a beautiful ruffle neck with a tie.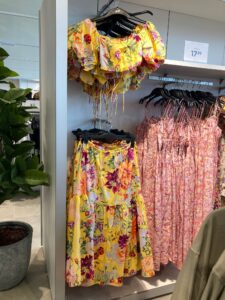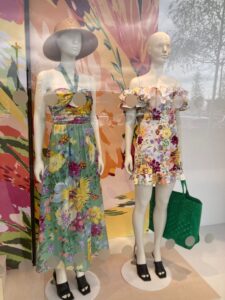 For those of you love florals, head to H & M this season. They have tied up with designer Anna Wilson to design their floral -fresh print for their collection this season.
Inspired by the beauty of flowers the collection includes ruffles, puff sleeves and playful pieces.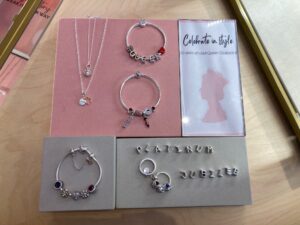 Keepsakes
Head to Pandora for a keepsake for your loved one to commemorate the Queens Jubilee. Choose from Union jack themed charms, Crown rings & stud earrings and many more.