National Pride Month 2022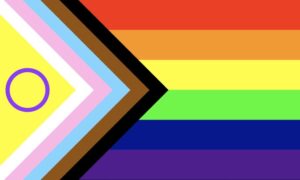 The Pride flag has had a makeover – to be more inclusive of intersex people.
Valentino Vecchietti designed the new rainbow Pride flag which was officially unveiled by the advocacy group Intersex Equality Rights UK. The new design builds on Daniel Quasar's iconic 2018 Progress Pride flag, which added a five-striped chevron to the left side of the flag representing LGBTQ+ people of colour and the trans community. The new version includes a purple circle over a yellow triangle in the chevron on the left half of Quasar's design.
The intersex community use purple and yellow as their colours as an intentional counterpoint to blue and pink, which have traditionally been seen as binary, gendered colours.
There's a deeper meaning behind the circle, too. In a 2020 video for Intersex Peer Support Australia, Carpenter explains that the symbol of the circle is "about being unbroken, about being whole," adding that "it symbolises the right to make our own decisions about our own bodies."
Leicester will be taking part in National Pride Month with a Stride with Pride event on 16th June. Find out more here.
Leicester Pride will take place on Saturday 3 September at Victoria Park. To learn more, see their website here.