Spring home ranges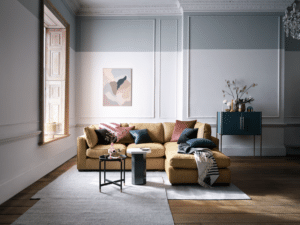 If you pop along to Sofology during your shopping trips, you will find bursts of colour and forest bathing coming through.
Playful bursts of colour are the perfect way to add warmth and freshness to a neutral colour scheme. Ideal for a spring refresh, flourishes of vibrant colour in the form of cushions and throws, layered for maximum impact, or a showstopping piece of occasional furniture can really help to elevate the everyday. For the colour confident, paint effects is the go to design for the season. Whether you pick out trim in a complimentary shade, introduce simple bands of colour or opt for scallop patterns, a colour burst can be a simple way to add a playfulness to the home.
Joules at dfs also has some opulent yellows and turquoise accessories and accent pieces.
If you are more into a natural look, create a sanctuary of tonal greens with forest bathing, an ancient Chinese practice also known as Shinrin Yoku. Mix raw wood with layers of olive and emerald to create a nature inspired space designed to revive and refresh.
Primark have recently extended their homewares department with an extensive range of accessories including faux plants, Pastel green and baby pink accessories as well as floral prints all along the back on the 2nd floor.  Next too have yellows and green accents.